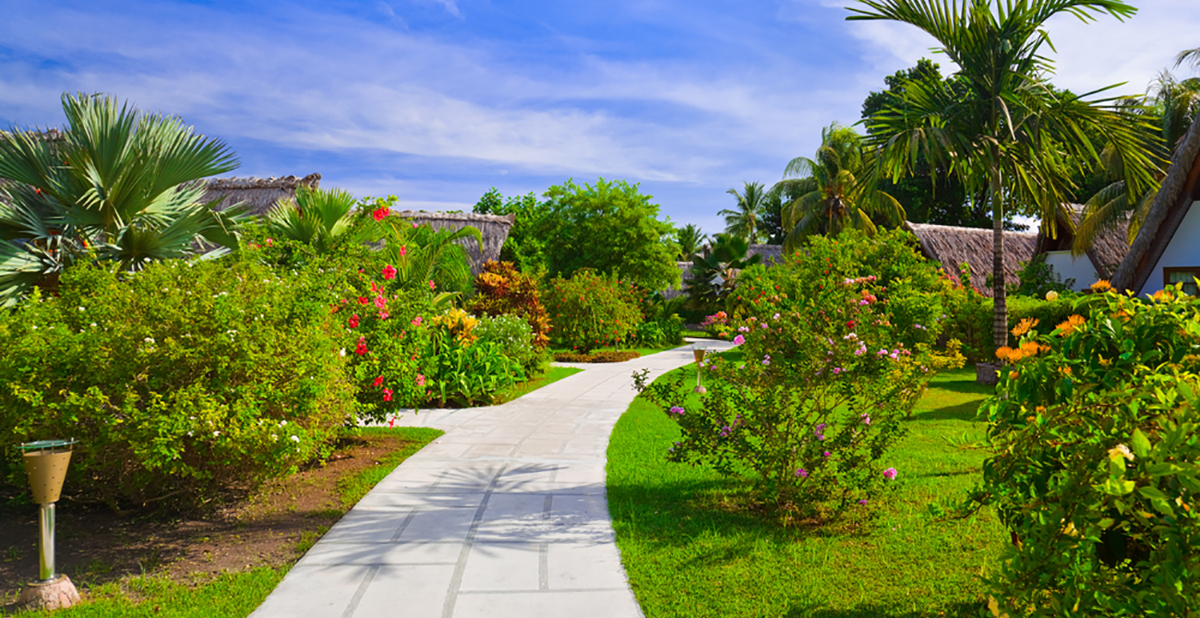 Everybody wishes to enjoy his lifestyle by adding trends and beauty to their best. People bring in the element of art, style and creativity nowadays in every walk of life and it has become a social status to beautify things in life. Landscaping تنسيق حدائق is among those elements that adorn your living to a whole new level. People will notice and perceive your personality and lifestyle by looking at your house. If the home has proper and beautiful landscaping تنسيق حدائق, people will be more likely to visit and cherish you. They might even start copying you as well.
What is Landscaping ?
It is the process that involves gardening and reshaping a piece of land to add value and attraction to it. It can be done by redoing the existing design, adding new features and horticulture. Landscaping تنسيق حدائق today is a new field where expert companies and individuals serve house owners and building owners by offering them landscaping Services. It has a set budget and a contract in which both parties agree upon the level of work, quality and other attributes for which the building owner pays the landscapers for their services as per agreed upon amount.
Why Landscaping تنسيق حدائق?
Landscaping is an art and to some, it is a science. People who need their front yards, back yards, lobbies and even pool sides to look eye-catching and economical as per space utilization, need Landscaping تنسيق حدائق. Many homeowners do landscaping by themselves or hire professionals to do all the labor work under their guidance. Some people with finances also outsource it entirely to landscaping Service Providers مقدمو خدمات تنسيق الحدائق. Being a process that requires a high level of creativity and skill, the Best creative ideas need to be planned before starting landscaping
Here are some Ideas for Landscaping according to the area that requires landscaping.
Landscaping Ideas أفكار تنسيق الحدائق for Front yard: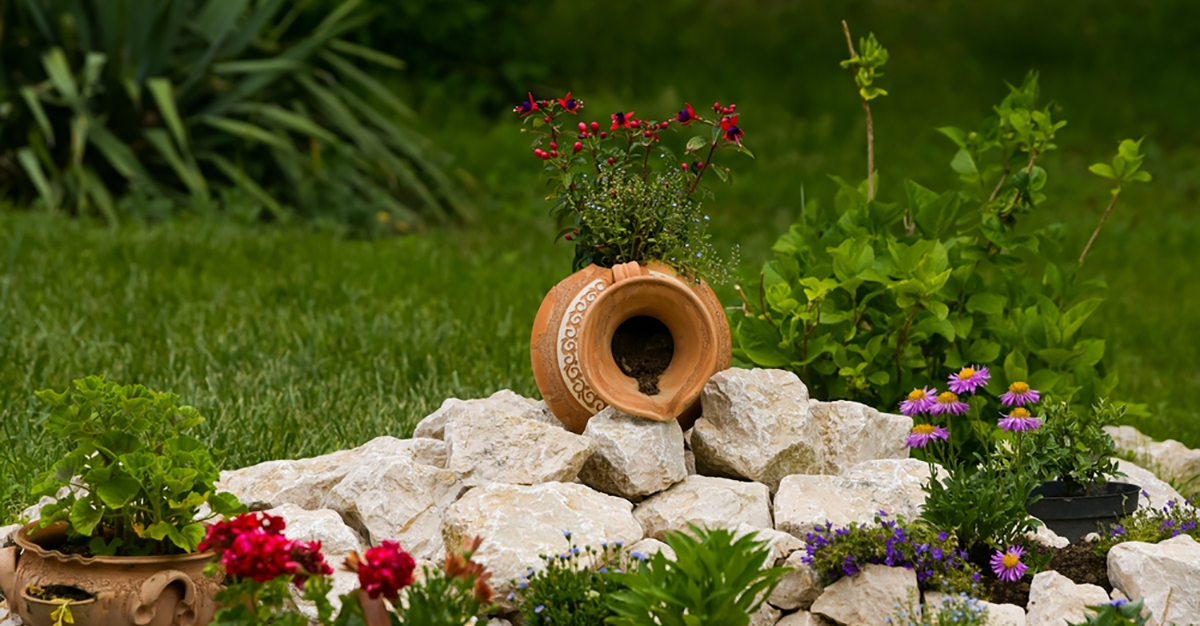 Make a theme and embrace it since the front yard is the first place anyone would enter or look at in your house or any other building, so you can look towards a theme that perfectly highlights your lifestyle. Whether old fashioned, historical, or the latest cutting edge, you can modify your garden, paint your house front, add rockery and plantation. Here we have some cool landscaping ideas أفكار تنسيق الحدائق for front yard:
1.Prefer Color Scheme:
You can mix a tone of colors that perfectly enhances the outdoor front entrance and the front lawn/garden. You can do this by planting your favorite color flowers, painting the front wall in a matching or base tone, or adding a pebble stone path or flooring that best matches your preferred color mix. But keep in mind that space must not be overstuffed.
2.Make your flower bed prominent:
You can keep everything else simple and plant flowers with good scent and color to add a natural touch. This will look great in sunny areas and in the beds of mountains.
3.Potted Plantation:
If your front yard is small, you can add potted plants with a color scheme where window edges, door edges and pots of plants can be of the same color. Wall hanging flowering and beautiful jingles alongside the dim lighting for the night effect will add to it.
4.Porch Utilization:
You can redesign your porch (if you have one) to add it to an existing landscape in your front yard. Match the color scheme or keep it simple and elegant, but it should be nicely done.
Landscaping Ideas أفكار تنسيق الحدائق for the backyard: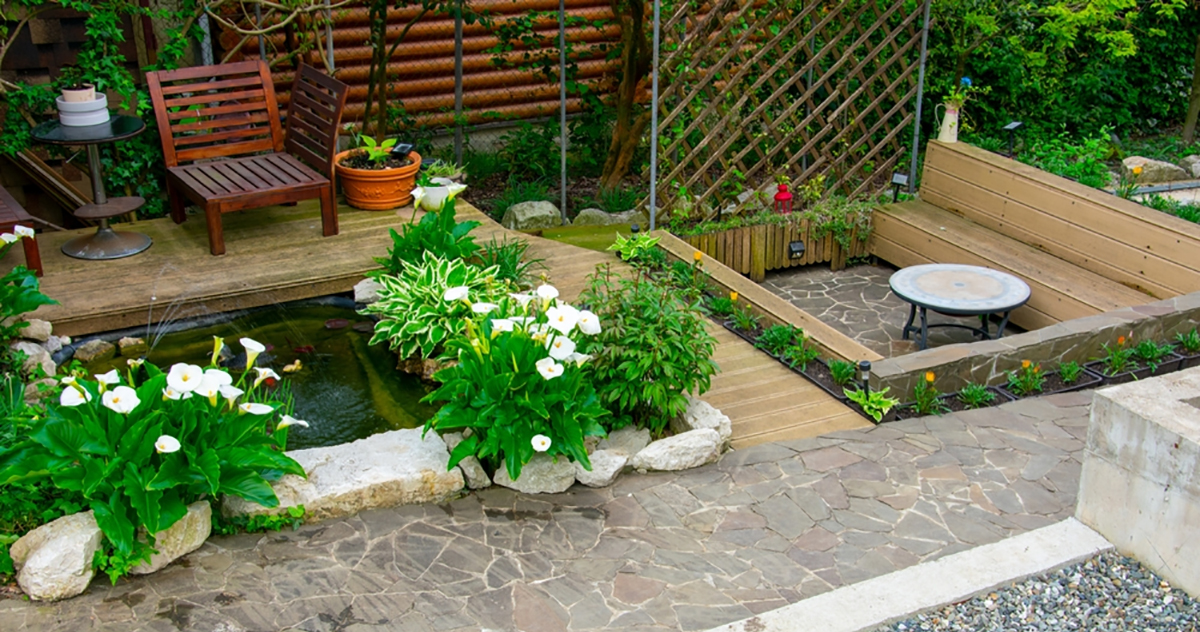 Make the best use of limited space by adding less space taking elements for making the backyard a best place to hang out with privacy and have fun. People can use their backyard as an exercise gym, a home grown vegetable garden or any other activity they wish to do but it needs landscaping تنسيق حدائق as per their need. Some people may use their backyard just for seating and spending free time for which they prefer uniquely designed landscaping ideas أفكار تنسيق الحدائق for backyard.
1.Keep it simple and private:
Privacy is the main concern while landscaping your backyard. Just add some fence and seating covered with a removable tent and seating for sunny days. Having a simple plantation, the lawn around it will add to it.
2.No Patio!
Landscaping a backyard doesn't always require a patio necessarily. You can see if the space allows you to add a patio or not. Simple, comfortable seating and cozy ambiance on the ground-level lawn just with the beautifully painted fence will add a lot.
3.Cafe yard
Okay! Here's the best part of your small space backyard. Lay down waterproof matting, add some artistic pots and a wooden fence covered with wall hanging pottery and drop a coffee table in the middle. There you go! You have it in a backyard cafe.
4.Backyard Garden
Whether the space is small or large, a backyard garden is always the best choice for plant lovers. You can design a garden filled with the aroma of flowers, comfortable seating and potted plants that might give a naturally healthy look to your backyard.
5.Yes, Patio!
The patio is always a plan to add a sense of emotional attachment to your backyard garden. Try a Sunken Patio with stone work on patio walls and the floor. You can make a stone table in between and add the beauty of small flowers on the sides.
Landscaping ideas أفكار تنسيق الحدائق around pool:
Space around swimming pool can also be landscaped. Space around pool can be used for seating plan, Barbeque place or a bar. It can also have greenery that matches the pool's design and dimensions. The added effect of lighting, underwater lighting for night view will enhance it. Some of the landscaping ideas أفكار تنسيق الحدائق around pool are as follows:
1.Dark Theme
Pool parties and night stays are most enjoyable when the dark string lighting for the night around the pool gives glowing effects. Added to it can be the stonework, minor plantation, and a bar to serve the guests. This will make a perfect night party zone for grownups.
2.Underwater Lighting
The pool can sometimes enhance its surroundings' beauty by dominating through underwater lighting. But this effect will only last till night. Hence plantation around it and seating arrangement under Canopy will make it more attractive.
3.Walk to the pool!
Irregular-shaped pools can also have a stone walkway or a floored one alongside the grass, a pair of leaning chairs and a fence. This is a perfect place for the couple to enjoy weekends around their pool, where neighbors can dive in to have fun.
4.Privacy is the primary concern.
For maintaining privacy, you can use hedges around the pool or stone walls with a seating plan and a fireplace. This place can be utilized in summers and winters both. Also, families can have to get together around the pool that is well maintained and its landscaping تنسيق حدائقis done correctly.