Landscaping is an art, a science & a service that adds value to the land by beautifying it. Whenever you think of landscaping, it triggers a refreshing feeling inside you. Obviously designing a garden or a yard needs professional hands but that is not all. It comes with the cost of hiring professionals and the hassle of managing labor too. Your privacy can also be disturbed if you are already living in a landscaped house.
Conveniently, people today prefer DIY Landscaping Ideas in almost every service where they can save money. Also, there is an element of self-satisfaction when you do something on your own. Create your own Landscaping from the following ideas.
Layering The Ground for Flowers
Prominently, the layers of flower beds can add a beautiful effect in your garden. You can do it by yourself as it requires no big rocket science. All you need to have is gardening tools and a creative mind to do so. Heighten the layers for flowers and shrubs around the garden. Also, add the flowerbeds artistically where you can play with the natural appeal of them. Use small flowers in the lowest level & keep increasing the heights as per levels. You can change the color per layer of beds too. Mostly, people use dandelions, jasmine, roses & a combination of others and plant them in different layers for DIY Landscaping Ideas.
When you have a garden space with trees and other plants, you will have excessive waste material. This is the best & natural source for making your own Mulch & fertilizers. Collect the dry leaves, petals and tree branches. Crush them in a bucket and use them for your DIY landscaped garden. Furthermore, this compost is chemical free and 100% organic.
Gradually, you can build a wall around your landscape. You can use the irregular big rocks or bricks. It will make a slope on one side and you can use it for grass or flowers. Ultimately, it will merge your house with the environment. Cover the rest of the area with trees. This landscape design will be best in cold climate areas. You will only require soil & rocks for it. Place them naturally without the use of concrete or cement.
When you have a small backyard connected to the neighborhood, you can make a pathway of bricks. This will lead to your backdoor and sidewalk can have pebbles settings. The boundary wall can just be a beautiful hedge and your back gate in between them. DIY Landscaping Ideas of this sort will utilize your backspace in a simple & cost saving manner.
Simply use plants & trees for creating your privacy. You can use Juniper trees and hedges with purple flowers on your sides. Simply, this will cover up the sides from neighbors and you can sit outside relaxed. Thus, privacy matters for families a lot and hedges will work fine for you. For an added element of security, use the thorny bushes on the outer edge too.
Always remember the lighting in your DIY Landscaping Ideas. In the evening a beautiful lighted pathway in your garden will look awesome. Use floor lights under the staircase or the sidewalks. You can place them on each side but they must not be too bright. Purposefully, these lights are there to just lift up the garden's own beauty. So, place the lights on walls that can enhance the night look of your garden.
Use LED Strips to raise the lighting at your stairs. Amazingly, it is low cost & will make your garden look beautiful. Furthermore, cost can be saved by adding solar spotlights under the trees and in bushes. Also, consider using different colored LED strips to make your DIY Landscaping Ideas look wonderful.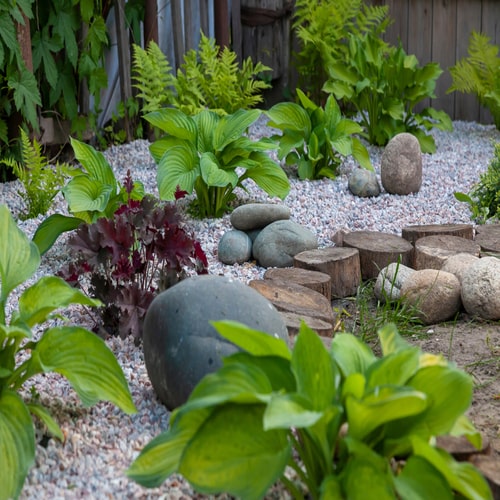 If your house is near the Rocky Mountains & you are a climber, collect rocks over the period of a year. Use those rocks to make a rock bed for flowers with Mulch & compost under each plant. Surely it will beautify the sideway in a sun exposed area. You can also make this bed under the trees and your boundary walls.
Now, we will discuss some professional DIY ideas that may require guidance & hard work. Initially, consider the natural water pond where you can design it from available landscaping designs. Water pond can be designed using rockery & other elements. You can add water supply and fish in it too. Or simply enjoy the summers in this pond. Plantation around the pond will be awesome in DIY Landscaping Ideas.
Thoroughly research for the fountain ideas and choose the best one for your front yard. Bring in the cost efficient & small size one to make it look good. Remember that in a DIY idea you have to design & partially build it yourself. So, be very creative & take your time in planning too. Once the fountain is placed, you can cover the sides with potted flowers or a sitting place near it.
DIY ideas save money & time if you apply them correctly. Mostly, people ignore the element of expert advice or hiring little help for the hard labor work. DIY Landscaping Ideas require tough labor and masonry work too. Therefore, you can bring in your idea and hire help too. For the best DIY ideas consultation, contact Halsco in Riyadh Saudi Arabia.
We hope that this article has opened up new ways of thinking for you. Stay tuned for our next literary piece of information.