"It's not where you start, it's where you finish that Counts"
Suppose you are considering the best finishes for your building in Saudi Arabia. In that case, it's essential to consider the challenges of climate and architectural styles, as well as durability and maintenance needs.
Talking with the region's architects and contractors with experience in the region's climate is suggested to select the most appropriate options to suit your particular construction.
Below are the nine Types of finishes in Buildings most commonly utilized as suitable for buildings in the area:
Stucco is a traditional finish created using a mixture of cement, sand, and water to form an extremely thick and durable material that resembles plaster. It's applied in several coats to exterior walls.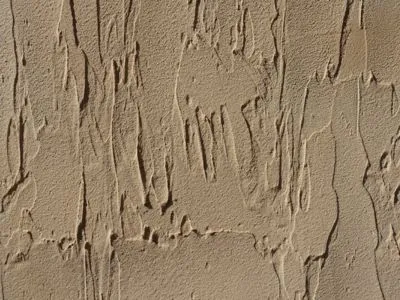 It is possible to be smoothed using various methods, such as troweling and scoring. Stucco is highly resilient to the extreme Saudi Arabian climate, with great heat resistance and the ability to withstand storms.
It offers good insulation and can match architectural styles. The textured surface provides dimension and personality to the building exteriors.
The natural stone cladding process involves applying thin pieces of real stone, including limestone or sandstone, to the outside buildings. The result is a façade that resembles stone construction.
Stone cladding gives an elegant and timeless look to structures. It is known for its outstanding endurance, durability, heat resistance, and low maintenance needs. The wide range of kinds of stones and colors allows the possibility of adjusting to your fashion preferences.
Ceramic tiles are an incredibly versatile and popular choice of construction finishes both indoors as well as outside. As they are made up from clay-fired, they are extremely durable and highly durable against wear and tear, making them ideal for places that have a lot of use by foot.
In Saudi Arabia's climate, having been characterized by intense temperatures and occasionally sandstorms, ceramic tiles work well. The variety of designs available encompasses a wide range of dimensions and colors, patterns, and materials, which allows for artistic freedom with regard to the design of architectural styles.
In Saudi Arabia's climate, having been characterized by intense temperatures and occasionally sandstorms, ceramic tiles work well. The variety of designs available encompasses a wide range of dimensions and colors, patterns, and materials, which allows for artistic freedom with regard to the design of architectural styles.
Suppose you are looking for traditional, contemporary designs or for a more decorative style. In that case, ceramic tiles provide an economical and flexible option, which makes them an ideal selection for Saudi Arabian construction for their practicality and aesthetic appeal.
Concrete finishes that are exposed take advantage of the beauty inherent in concrete, allowing it to be seen from the outside of structures. Concrete surfaces can transform to create different textures like rough, polished, or even patterned.
Concrete exposed provides an elegant and modern look. It's cost-effective, and it has great durability, making it an environmentally sustainable option.
It is a great choice for Saudi Arabia's climate. Exposed concrete is a great way to reduce variations in temperature within the building.
Wood cladding, acclaimed due to its natural warmth and appearance, is sometimes employed to construct the exterior of buildings within Saudi Arabia.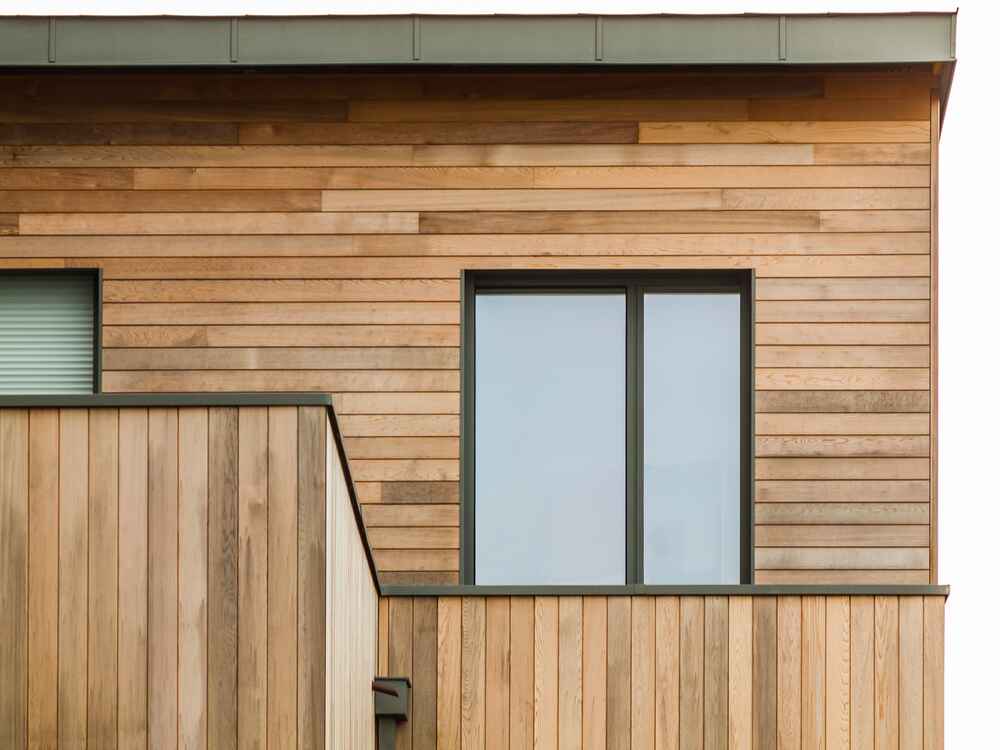 It is the practice of covering exterior walls using wooden panels, typically redwood or cedar, to give a distinct look. However, the suitability of it in the harsh desert climate of the region was considered with care.
Regular maintenance, premium finish, and wood are vital for long-lasting longevity. Although wood provides some natural insulation properties, more steps may be needed in extremely hot conditions. Wood panels can give a distinct appearance.
However, it requires attention to detail and careful consideration of the climate in Saudi Arabian construction.
Aluminum Composite Panels (ACPs):
Aluminum Composite Panels (ACPs) are an ideal choice for exterior construction within Saudi Arabia due to their low weight, design flexibility, and durability.
Made up of two aluminum sheets, which are join to a solid core, They offer a sleek style with an array of finishes and colors. ACPs are insulated, providing efficient energy use and superior resistance to severe climates.
The low cost and minimal maintenance make them an ideal choice for various construction projects; however, an appropriate installation process and compliance with fire safety regulations are essential considerations.
The high-quality exterior paint from Saudi Arabia formulates with the properties of heat reflectivity. The most popular colors are light to reduce heat absorption and transfer within the structure.
The benefits of paint are that it provides the necessary layer of protection for structures against intense sunshine and sand.
Paint that is reflective of heat can dramatically decrease cooling costs. Additionally, periodic repainting helps maintain the building's appearance and protection.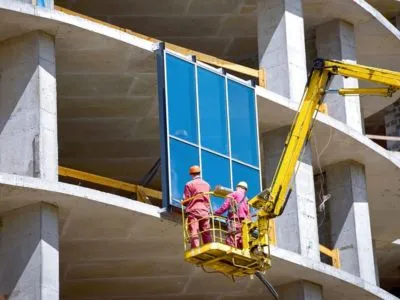 Glass curtain walls are a popular feature of contemporary architectural designs, providing the appearance of modernity and transparency to exteriors.
It consists of large sheets of continuous glass inside a frame made of steel that floods the interior with light and allows for clear views. In the climate of Saudi Arabia, where sunlight is plentiful, using glass curtain walls can be a good strategy to maximize daylighting.
Tinted glass can be used for reducing heat gain, helping to improve energy efficiency, particularly for air-conditioned homes. The clean and modern appearance of the glass is in keeping with America's desire for contemporary design.
This makes glass curtain walls appealing for residential and commercial construction projects.
If you wanna get more information about home finishing then this blog will definitely help you about which time is best for home finishing service & WHY?
Gypsum Board Interior Finishes:
Gypsum boards, also known as plasterboard or drywall, comprise the gypsum Core, which is covered with faces of paper.
They were used for walls in the interior. Gypsum boards are versatile and easily cut and bent to meet the various requirements of design. They produce smooth and neat walls and are great to paint. They're affordable, simple to set up, and are readily accessible throughout Saudi Arabia.
The Best types finishes in buildings within Saudi Arabia should consider the extreme desert climate, aesthetics, durability, and care. Natural stone cladding, stucco cement tiles, exposed aluminum composite panels, and heat-reflective paint are great choices for exterior finishing.
Glass curtain walls maximize natural light. Gypsum board finishes for interiors can be used in interior areas to create a range of options. Carefully selecting these finishes guarantees aesthetics and functionality when building projects in Saudi Arabia.