Turn your yard into a masterpiece of art. From ground renovation to garden design and maintenance, Landscaping is the service where top standard of creativity and innovation is required. Every year new trends are introduced where owners tend to hire the professional landscapers and have their garden work done. But this is not it as the best aesthetic skills are required and a highly creative mind that can merge the environment into the design that shall go with the owner's imagination.
Landscaping designs shall be picked up as per current trends in your locality and environment. The landscaper should understand the weather conditions, environment effect on plantation, irrigation system and the design that shall not occupy too much space in filling it with the design itself and no room is left for the people to enjoy it. Well-planned utilization of garden space alongside a perfect match with the surroundings will uplift the beauty of landscaped parts and the house itself.
In this article we shall discuss some of the best trending landscaping ideas in 2022:
1. Focused Immersive Gardens
Your dream of having a beautiful garden that is close to nature but experienced a human touch and is a sign of neatness and natural beauty merged together. Immersive Gardens are also known as curated wilding or nature-scaping. This type of landscaping is mostly focused on neutral colors with raw texture and rich elements. We can call it the beauty of imperfection by adding human element. Trimmed plants are used in a setting where it looks primeval.
2. Go Greener, make Environment Carbon Free!
Normally, going green is becoming popular day by day. People now prefer growing herbs, vegetables and fruit in their backyard or front yard but they also want it to be a part of a beautiful garden where every plant is part of aesthetically arranged design. These plants can be accompanied by stony pathways or bricked walk ways. But the dominance of greenery with the idea of going carbon free is not only healthy but refreshing to eyes if landscaped properly.
3. Metals are the strength of beauty!
Now think of adding the style with metallic chairs and coffee table or a food table with pebble flooring and patio in the backyard landscaping. It brings a whole new look especially in winter sunrise where you can enjoy breakfast and enjoy the family moments together. Metallic furniture can be matched with the color of flowers or just a basic color that is not too shiny rather it should be faded and go with the surrounding color scheme. Metallic grey, brass or light brown would do great.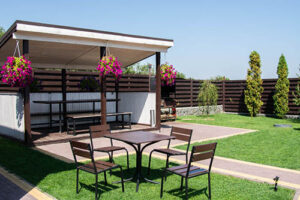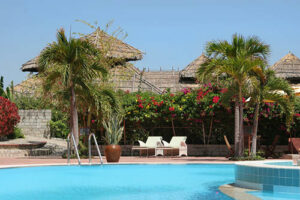 4. Ever-green, ever-lasting!
Imagine the Texas Ranch look with innovative style and inventive touch of pool side gardening in the front yard and cactus, palm trees and other ever-green trees added there. Afire place and a comfortable seating place on the pool side will also look awesome. It is also to be noted that drought tolerant plants are becoming popular since climate crisis is increasing and water needs to be saved which is why ever green and drought tolerant plants are the best option in front yard landscaping.
5. Artificial looks better
Artificial grass mat is one of the most popular landscaping technique used as a cost saving medium and the one which is beautiful too. A porch shade right in the angle of sun and sidewalks having stone walls is what artificial grass needs mat in between to boost up the look. Added features in this Landscaping can be a swimming pool or rockery at the side with fountain in it.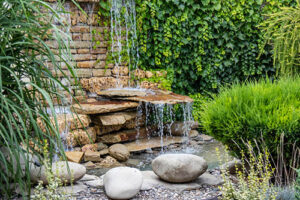 6. Water in the garden
Fountains, pools, artificial waterfalls are the best option where one needs to instill the natural use of water with style. It requires gardening and any garden looks best when it has either irrigation or natural water supply system. But adding fountains as a part of Landscaping Idea requires intelligence and space utilization. Even a pond with pebbles work around it would add great natural effect in your backyard when the plantation, hedges are properly designed and the Landscaping idea allows a private seating place just behind the bushes.
7.Gazebo, Patio and others
Gazebo is my personal favorite part of any park, garden or sitting place with greenery in it. Pertaining to it, the patio and wooden seating plan on a bricked floor with natural grass and shady trees just behind it will give a rich feel to the eyes. A portable fireplace would do great here as well. Such landscaping is cost efficient and can be done in very limited spaces as well.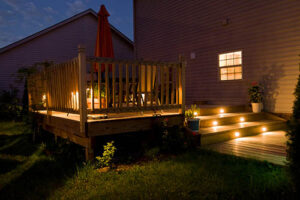 8.Outdoor Spaces
Human functionality increases in outdoor spaces. Many families feel complete while having a gardening done to beautify the outdoor spaces. These can have barbecue spaces with seating arrangements under my favorite Gazebo and a Scottish style fireplace with stone flooring. You will be amazed to see the effect or yellow lights in this Landscaping Idea.