A limited living space can be designed beautifully adding the elements of creativity & art with Gardening ideas. Notably, people around the world now prefer to live in apartments due to the rising inflation. But simultaneously they need a relaxing space & a spot to sit idle & think. Artists, writers, designers & other creative people directly need it. Gardens are a place where such people enjoy their time & feel relaxed. But in a flat system & apartments, it seems impossible to have a large green belt with landscaping & plantation.
Today we shall discuss the creative ways in which you can utilize your limited flat space for Gardening.
Firstly, measure the flat space, the free area & other aspects of your boundaries. If you have a balcony or a terrace, it is best for your plantation needs. If you do not have a balcony, then the option relies on indoor plantation or rooftop plantation. Then, you can use the spaces like front wall, back side wall or shared walls for plantation too. Ultimately, the goal is to fill the space wisely with the plantation.
Using the walls is the best way to creatively make a small garden space. Gardening through walls by planting in the pots looks beautiful. You can design a tiled place or a wall hanging plantation with seasonal flowers. You can also use metallic stands in dark tone & fill the light colored pots with white flowers. The side skirts can have an embossed tile where you can plant bushes.
Additionally you can focus on the center of the limited space you have got. Make the maximum use of it. Conventionally, if you reside on the ground floor, you can design the trees in your front lawn. Gardening in the center will require filling it with flower pots & a tree. You can also make a small fountain that circulates the water.
Simply, go for buying a garden flat or apartment. This residential option has already an option of the garden. You can design the garden as you like and utilize the space. Garden flats usually have the garden space in the back railings. Mostly, UK people prefer to live in Garden flats to save money on utility bills. They maintain a small piece of green belt in their balcony near back railings.
Use Wooden Material For Gardening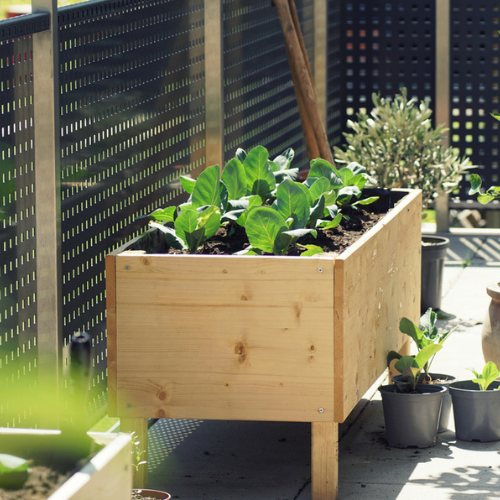 Bonsai is an ancient Chinese technique of controlling the plant's growth in every sense. Nowadays, Bonsai are known to be one of the most expensive plants in the world. Bonsai cover almost 1/10th of the actual plant's space in terms of size & other features. Bonsai are best for flat systems as their requirement of space, water & sunlight is minimum. 'Bonsai Gardening' is the best way to add beauty & freshness to a limited space.
Gardening Around Coffee Tables
Small coffee table with seating of three can also add beauty to the flat system garden. Small coffee tables always look perfect on a balcony or small garden in a flat. They can be used for meetings, friend's visit and enjoying the sunny weather.
Recently, a newer concept of roof top gardening has grabbed the sight of people. Technically, it is the best place to grow a garden in a flat system. Rooftop Gardening is used to grow vegetables, flowers, honey bee keeping & nursery. This concept has been popular in China, Japan and other Asian Countries for two centuries. In the UK, USA and other countries it is now trending rapidly. You can keep flowers, grow vegetables and keep a nursery to make it a business too.
Croton Plants also look beautiful in little flower pots or beds. They can add the best spark in your flats and can make you feel fresh. Round shaped croton plants or spirals will look artistic and stylish. Gardening with croton types of plants will be the best option in studio apartments. Thus, you can make it a perfect background for photo-shoots.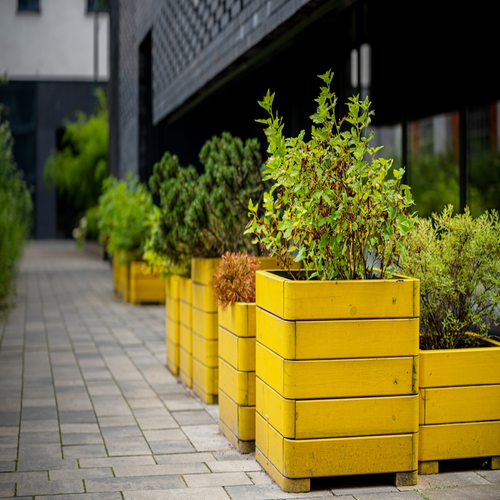 I personally don't like shrubs at all but many people love to have tiny shrubs in front of their flats. Shrubs can give a tiny and thorny look and people like them in combination with roses or dandelions. Honestly, we don't recommend shrubs in a tiny space like a flat.
You can add themes accordingly to seasons and keep updating your flat system Gardening. This will keep its fresh & updated look and you won't get bored at all. Also, professional landscapers can help you out in guiding the latest trends.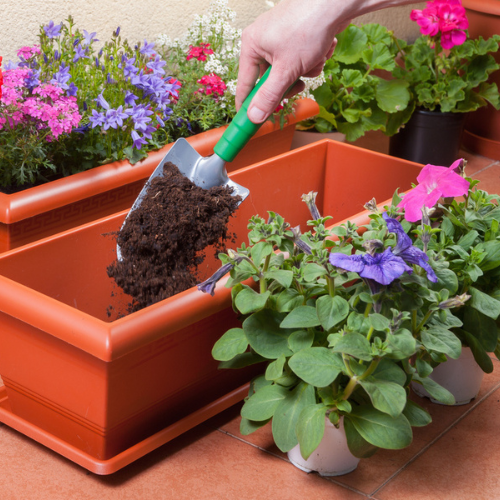 Finally, Design your garden in a flat system to be focused on the prominent part. If it is a corner your plantation & lighting must be focused towards it. Similarly, if it is a center, place a table, or another seating to make it more visible.
To conclude, it is imperative to guide you towards hiring a Professional Gardening Service for your flat. It will save time & effort even if it is a bit costly but then you can be focused on your work. Once a professional is hired to maintain your garden, you will be relaxed from problems of garden maintenance